Press
Details
The Production Network is growing beyond itself
Saxon league will attend with his new network partner as well as the patented laser protection system the Hannover Fair
Limbach-Oberfrohna, Gelenau, Hartmannsdorf, Mülsen:
"The Production Network" will present his new partner of the saxon league at this year's Hannover Fair from 25th until 29th of April: Schwalbe Metallbau GmbH. On the network stand F24/2, (6) in Hall 4, they will also present market innovations such as the patented laser protection system "A-Protection" as well as longstanding success stories of the from now on seven partner companies. One example: the delivery of the 500th hull machine, manufactured in real teamwork.
Since September 2015, the company Schwalbe Metallbau GmbH from Mülsen acts as new, powerful partner in the Production Network. With the strength of 80 employees, the company stands for excellence in the field of steel construction and engineering. They cut, bend, weld, paint and mount up to 10 tons workpiece weight in the area of serial production and even more then 10 tons in the area of individual production. "We are able to extend the portfolio of the Production Network in the fields of sheet metal processing and steelwork design and we can develop further the output capacity of the network in the field of engineering and plant construction at the same time", explains Marko Seidler, CEO of Schwalbe Metallbau GmbH.
Market innovation: laser protection system "A-Protection" reaches series production readiness
The modular laser protection system "A –Protection" is an example of inventiveness and real teamwork "Made in Saxony" which will be presented in the serial production design at the Hannover Fair. The laser protection wall from high quality materials and durable construction design ensures maximum protection against hazardous radiation. By stringing together, the individual wall elements can be combined to create a powerful laser protection cabin. The cabin encapsulates the working space and therefore ensures a reliable passive protection with modern 3D laser cutting and laser welding unit. Even highly brilliant laser with a power up to 10 kW cannot penetrate into this laser protection. Strayed laser beams caused by scattering or direct reflection can therefore pose no risk to the health of the operating personal. The highlight of this solution is that the wall will not be damaged and the machine can always continue to work unhindered.
The laser protection system "A-Protection"is a patented innovation of the network partner ANTARES GmbH. "Only with the background of the Production Network, we are able to serve numerous potential partners mainly from the area automotive smoothly and in time", explains Jörg Bergelt, CEO of the ANTARES GmbH. Each step in the production of the laser protection system is implemented within the Production Network – from the design through production and coating, up to the assembly of the plants.
Anniversary: 500th hull machine leaves the factory halls of GEMAG
The following anniversary shows how successfully the Production Network implements their major projects in the sectors of agricultural engineering, mechanical engineering, rail vehicle construction, special vehicle manufacturing as well as medical technology and apparatus construction: In January 2016 the 500th hull machine left the factory halls of the Gelenauer Maschinenbau AG. "500 machines of this complex type in barely five years are a masterpiece because the serial nature in the sector of German mechanical engineering is declining", said Hans-Peter Weise, executive board of GEMAG. The further expansion of the business segment mechanical engineering components – especially machinery bodies, hull or base machine and tool magazines – is only realizable within the strong community of the Production Network. Know-how and capacity for the therefore required steel structures, sheet metal parts, sheet covering and complete enclosures, coatings according to customer requirements as well as stainless steel components will be provided efficiently and in time by the network partners.

Stops including spaces: 4128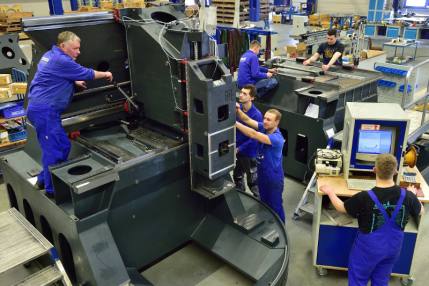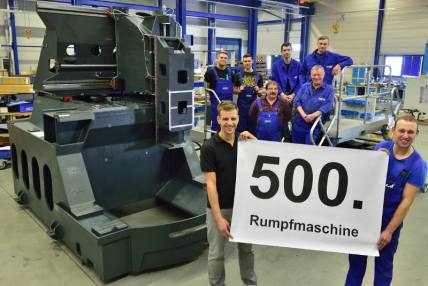 pictures: Wolfgang Schmidt
Details
Growth of the Asian market
AMS Technology GmbH starts cooperation in Bangladesh
Limbach-Oberfrohna: High-quality containers and vessels made of stainless steel - this represents AMS Technology GmbH. And this high quality work from Saxony is appreciated worldwide. The company was able to record continuing rising sales in recent years, especially on the Asian market. In order to strengthen this line of business, the company AMS concluded a partnership in Bangladesh.
High quality standards in the manufacture of the production lines are also first priority for the Asian market. Therefore, seven employees of the cooperation partner will come for training purposes to Germany. The specialists of AMS will pass within ten weeks their experience and know-how in the field of stainless steel processing. They will train the guests from Bangladesh in special techniques of surface processing, grinding and welding. But, it is by sure that we can certainly also learn a lot from the widely travelled guests.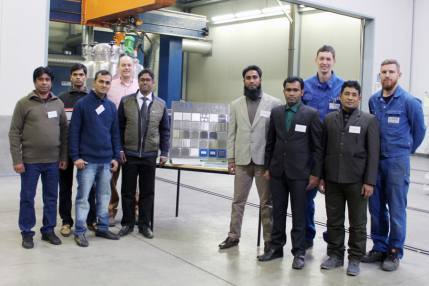 Details
Achieve more together
Companies of Limbach-Oberfrohna contribute for the good purpose
Limbach-Oberfrohna: Five companies of Limbach-Oberfrohna also demonstrate animal commitment and sport spirit for kids this year and support different local clubs with 3.000 € in total under the motto "Achieve more together". After the call of the contribution unit AMS Technology GmbH, DELTA BARTH Systemhaus GmbH, DELTA proveris AG, Limbacher Oberflächenveredelung GmbH and OMEGA Blechbearbeitung AG to present concrete project plans three of twelve transmittals had been selected.
To enlarge and to develop age-based offers for the spare time and learning in Limbach-Oberfrohna is most important for the Managing Boards and Directors of the companies. "Finally, we employ a large amount of employees from Limbach-Oberfrohna and surroundings. It is important for us that manifold possibilities are also offered for kids in our town to create an active spare time. But some plans can not be executed by oneself", Andreas Quellmalz explains, Managing Board of the OMEGA Blechbearbeitung AG, the selection of the clubs which can be happy about the contribution this year. The enlargement of the zoo school from the Tierparkförderverein e.V. as well as the projects "Sport for preschool kids" of the TuS Falke Rußdorf e.V. and "Bambini-Badminton" of the Sportgemeinschaft Bräunsdorf e.V. are subsidised by the contribution unit with each 1.000 Euro. It has already been a tradition for the companies of Limbach-Oberfrohna to support regional clubs and social institutions together by the campaign "Give instead of gifts" instead of sending gifts to business partners and customers.
Signs incl. blanks: 1.727
Details
Enormous Success at the ACHEMA Fair
AMS Technology GmbH Shines with Its Stainless Steel Apparatus
Limbach-Oberfrohna. On Friday, June 19, 2015, AMS Technology's trade fair team returned from Frankfurt's ACHEMA. "At the previous instalment of ACHEMA three years ago we already enjoyed a great reception. However, this year, the flood of prospective clients was overwhelming", says Jens Barth, managing director of AMS Technology, pleased at the resonance.
For AMS Technology, ACHEMA is the most influential trade fair to exhibit its apparatus and vessels at. "I am confident that, following this fair, we will carry out many orders," Sigfrid Frenzel, operations manager at AMS Technology sums up. As a partner at the Manufacturing Network (Das Fertigungsnetzwerk), an alliance of Saxon companies, 91-employee-strong AMS Technology is ready for even complex projects.
Details
Give, Donate and Inspire
Limbach Companies Plan Another Donation Campaign
Limbach-Oberfrohna. True to the motto "accomplishing more together," the Limbach-Oberfrohna companies AMS Technology GmbH, DELTA BARTH Systemhaus GmbH, DELTA proveris AG, Limbacher Oberflächenveredelung GmbH and OMEGA Blechbearbeitung AG donate 3,000 € each year for a good cause and show their commitment to the region.
For some time already, the companies have forgone giving holiday presents to their customers and business partners. "Instead, we support regional associations and social institutions that make people happy," explains Annett Barth, managing director of DELTA BARTH Systemhaus GmbH.
This year, all institutions shall have the chance to explain their concrete projects. "We are certain there are institutions that are hardly visible to the public, but whose work makes an important social contribution," Uwe Jentsch, managing director of LOV Limbacher Oberflächenveredelung GmbH, says about the background of this year's donation campaign.
To apply, institutions should describe themselves and a specific project they hope to finance, including its target audience and time frame on at most three A4 pages. Using "Donation 2015" as the subject, social projects can apply by post to DELTA BARTH Systemhaus GmbH, Ludwig-Richter-Strasse 3, 09212 Limbach-Oberfrohna or via an e-mail to presse@delta-barth.de until September 18, 2015. If you have any, contact Kathleen Donath at phone number 03722/71700.
Details
Dual Leadership for Global Challenges
AMS Technology GmbH Expands Its Management Board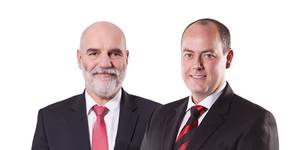 Limbach-Oberfrohna. Starting on May 28, 2015, AMS Apparate-Maschinen-Systeme Technology GmbH has a leadership duo: Long-standing operations manager Dipl.-Ing. (UAS) Jens Barth was appointed managing director. Together with Dr.-Ing. Uwe Landmann, he is now responsible for leading AMS. Says Jens Barth: "I am looking forward to facing this new challenge together with our great team, in particular new operations manager Sigfrid Frenzel."
Increasing requirements in carrying out large projects as well as a strengthened global orientation led the Limbach-Oberfrohna company to this change in leadership. "Large volume orders mean increasing demands in technology, surfaces, quality and date regimes. These days, our products are in use worldwide. It is impossible to manage and control this alone," argues managing director Dr.-Ing. Uwe Landmann. AMS Technology is a specialist for apparatus and vessels made of stainless steel. It observes a positive order situation, especially from sectors such as the pharma, cosmetics and hygiene industries.
AMS Technology possesses excellent know-how, all necessary accreditations and comprehensive experience in carrying out large projects. The 91-employee company ships process mixers to Australia, evaporators and crystallizers to Vietnam, bioreactors to China, sterile vessels to Slovakia, cosmetics mixers to the US or desalination systems to the Mediterranean area. It will be interesting to see which projects AMS is going to land next. Given the accreditations for the North and South American markets, certification according to Chinese norms and for the traditional European business area, all the signs are toward a positive future. Jens Barth and Dr.-Ing. Uwe Landmann hope to be the dual leadership that sees this future become a reality.